Speech by Chairman of the State Duma Vyacheslav Volodin at the plenary session "Russia-Africa in a Multipolar World"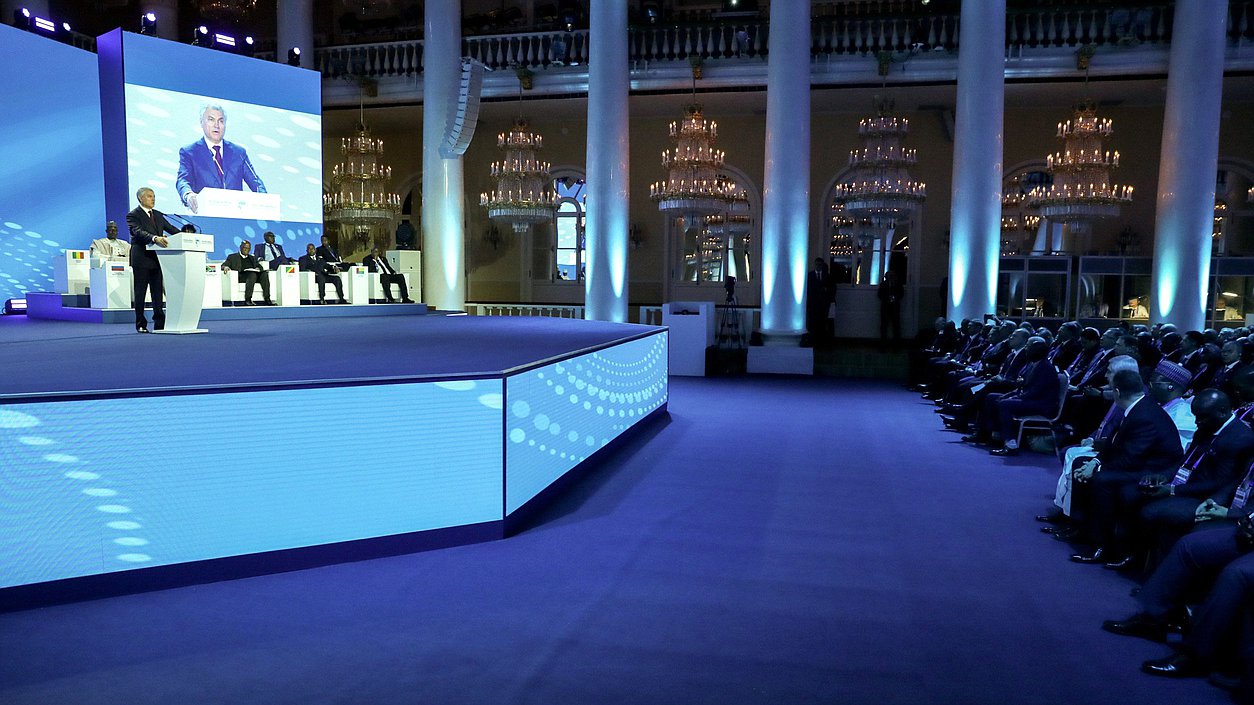 "Dear Colleagues! Dear friends!
First of all, I would like to express gratitude for having found the opportunity to come to Russia.
We understand that it was not easy. We understand that this is not because of distances, as the distances mean nothing to us and we can always find an opportunity to hold meetings. But this was not easy because of the unprecedented pressure and threats, because of the other obstacles created for the Conference participants by Washington and Brussels.
Thank you for finding the courage! I am grateful because our friendship is much stronger than the actions of those who wanted to bring us apart! Thank you!
Colleagues! That is the second International Parliamentary Conference "Russia-Africa". The first meeting took place in 2019. Today, those who have gathered here know the real price of independence, the right to make their own choices.
Our relations have reached a new level of cooperation. Russia and the African states are united by common goals: we stand together for building a multipolar, just world based on the principles of respect for traditions, culture, and history of the countries with which we are building mutually beneficial cooperation.
Africa is a continent of freedom-loving people. Together we can withstand any foreign pressure, as it has already happened in our history. Friendship is a two-way street.
Despite illegal sanctions imposed by Washington, Russia and African states are developing trade and economic cooperation. The trade turnover is increasing: at the end of last year it reached 17.9 billion USD.
Today, the African continent plays an important role in solving global and regional problems. And it will only increase. I would like to emphasize that Russia and African countries are equal allies and partners.
Our relations have always been built on a disinterested basis, on the principles of mutual respect and non-interference in internal affairs. For our country, the African continent has never been the subject of mercantile interest, the use of labor and raw materials, and we cannot say the same about the United States of America and European states.
Washington and Brussels are seeking to take control of Russian and African natural resources. In fact, they are still pursuing the colonial policy. They use any measures, including forceful and terrorist, for their own benefit.
Colleagues!
Washington should not lecture us how to build relations, make friends and make plans for the future!
African countries know from their own experience how difficult it is to defend their identity, traditions and values. This unites us. Only nations of sovereign states will have future!
Friends!
If there is no dialogue — there is no trust, if there is no trust — there is no development.
We hold regular meetings in bilateral and multilateral formats. Last November, the State Duma gained an observer status at the African Parliamentary Union.
It is important that constructive proposals and initiatives have already been made during the Conference and that will give impetus to the development of Russia-Africa cooperation in the interests of our nations.
We should find new formats of cooperation. In this regard, there is a proposal to hold the Conference "Russia-Africa" annually. Parliaments should use their opportunities to bring relations between our countries to a higher level.
Thank you for your attention.
Thank you for being together. I hope that no challenges, problems, obstacles before our relations, will be able to reverse the development of history, will not be able to break our relations, which our nations, countries have been building for decades. And today we rely on this wonderful history of cooperation, where friendship is a priority. I hope that it will be same in the future".